09 Feb 2021
Transport for Wales lights up for LGBT+ History Month
Trafnidiaeth Cymru yn goleuo Mis Hanes LGBT+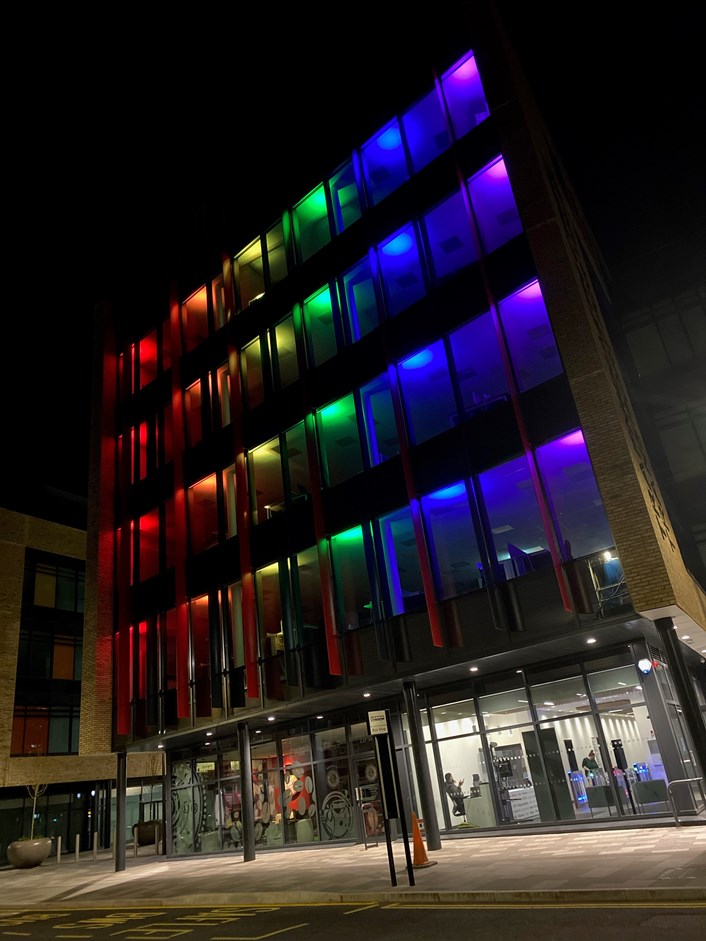 Transport for Wales is lighting up its new headquarters building in Pontypridd with rainbow colours to celebrate LGBT+ History Month.
Every February in the UK, the month is a celebration that encourages further education into LGBT+ issues and through lighting up their building, TfW is proud to be supporting and promoting an overall safer and more inclusive society.
TfW, as a new organisation that is being developed following the principles of the Well-being of Future Generations (Wales) Act 2015, is fully embracing Equality, Diversion and Inclusion and embedding it within the workplace culture.
Since publishing their Strategic Equality Objectives in June 2020, TfW has set up an Equality, Diversity and Inclusion group where colleagues represent strands of protected characteristics such as multicultural, multigenerational, gender, disability and LGBT+.
Lisa Yates, Director of People and Organisational Development, said:
"We are extremely proud to be supporting LGBT+ History Month by lighting up our new building with rainbow colours.
"TfW is a fully inclusive organisation, where all colleagues are treated equally with respect and diversity is celebrated.
"We have recently set up our Equality, Diversity and Inclusion group where our colleagues represent different strands of protected characteristics, LGBT+ being one of them."