24 Feb 2021
RNLI wins Transport for Wales charity train poll
Elusen yr RNLI yn ennill y bleidlais i ymddangos ar un o drenau Trafnidiaeth Cymru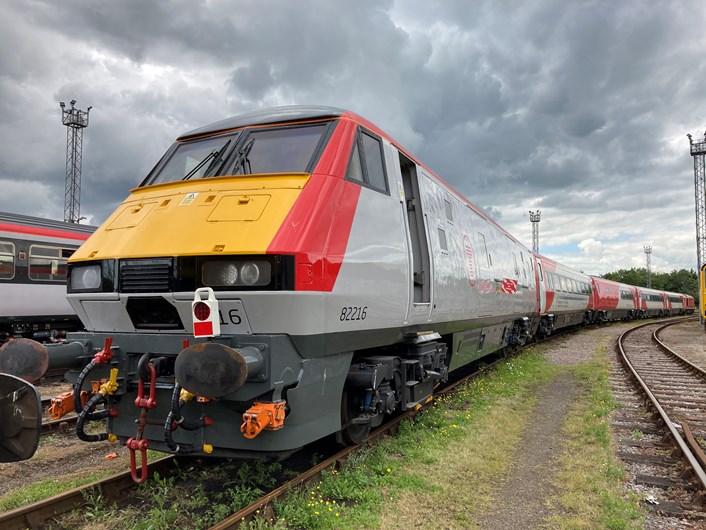 Transport for Wales is delighted to confirm that the Royal National Lifeboat Institution (RNLI) has won a poll to decide which charity will appear on the side of one of its trains later this year.
The RNLI received nearly half of the 3,625 votes cast on Twitter, to finish ahead of fellow charities the Wales Air Ambulance and Mind Cymru.
The RNLI logo will now feature on the end carriage of one of the three sets of modern Mark 4 carriages, which are being introduced on Cardiff-Holyhead services later this year. There will also be carriages featuring the logos of Transport for Wales' charity partners Alzheimer's Cymru and Ty Gobaith Children's Hospice, who were selected by TfW staff.
James Price, Transport for Wales CEO, said:
"Congratulations from everyone at Transport for Wales to the RNLI for their victory in this poll. I'm excited to see the RNLI-liveried train on our busy North-South route later this year, particularly along the North Wales coast which the RNLI does so much work to serve.
"I'd like to thank everyone who voted and shared the poll on social media, and the RNLI, Mind Cymru and the Wales Air Ambulance for their enthusiastic participation in this event and their help in making it a success. We hope to continue to work closely again with all three organisations in the future."
Nick Evans, the RNLI's Fundraising and Partnerships Lead, said:
"We at the RNLI are absolutely delighted to have won the public vote to have one of TfW's new Mark 4 carriages wrapped in our branding. We're hoping to use the opportunity to deliver key beach safety messages to the public as they visit the coast this summer to ensure the Welsh coast is a safe place for all."
Notes to editors
Transport for Wales will be introducing Mark 4 carriages on Cardiff-Holyhead services in 2021. These will replace the older Mark 3 carriages which currently operate a limited number of Cardiff-Holyhead and Manchester-Holyhead/Llandudno services.
The Mark 4 carriages were built for British Rail between 1989 and 1992 for use on the East Coast Main Line between London and Scotland. They have since been refurbished between 2003 and 2005, and in 2016. They were most recently in service with London North Eastern Railway, before being replaced by the brand new Azuma trains.
Transport for Wales has acquired three four-carriage sets to provide an enhanced customer experience, with the Mark 4 sets being used on three Cardiff-Holyhead services a day each way, compared to one a day each way at present. This will provide an expanded catering service, and more services with First Class seating. The carriages will continue to be hauled by the powerful Class 67 diesel locomotives, which are owned by DB Cargo UK and leased to TfW for use on their services.
The Royal National Lifeboat Institution
The RNLI saves lives at sea. From Flint to Penarth, we educate, influence, supervise and rescue anybody who needs us on the coast.
Tens of thousands of people like you will visit the coast on TfW trains in 2021, please help to keep us at the front of people's minds by voting for us.
The sea does not discriminate and neither do we, we will always be there to help anyone who finds themselves in difficulty. Our world-class lifeboats and lifeguards have been saving people for almost 200 years and we intend to be a part of Welsh coastlines forever.