15 Feb 2019
Meet the grime fighting duo working through the night to get our trains ready for rush hour
Dewch i gyfarfod â'r ddau ddiwyd sy'n gweithio drwy'r nos i gael ein trenau'n barod ar gyfer yr oriau brig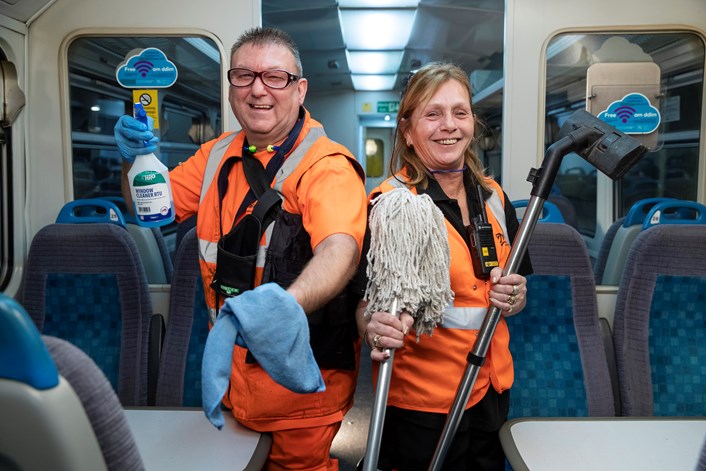 Two staff members at Transport for Wales are set to star in a new BBC Wales series exploring the hidden world of night shift workers.
Lynne Bartlett and Andrew French, both from Cardiff, are members of Transport for Wales' Train Presentation team and spend hours every night preparing the carriages for the 12,000 commuters who use the network every day.
The grime fighting duo, who between them have spent more than 30 years working the night shift, will now star in a new four-part TV series to be shown on BBC One Wales
Aptly named 'Nightshifters', the series explores the often-forgotten world of night workers and describes people like Lynne and Andrew as 'the invisible army working in the dark to make sure the day runs like clockwork'.
The episode follows the Lynne and Andrew on a shift in the middle of a summer heatwave while they work with their teams through 22 degree heat to get more than 100 carriages ready for rush hour.
Lynne, who joined the railway industry more than 16 years ago as a cabin cleaner, is now a Transport for Wales Team Leader.
She said: "Some of the items I have discovered throughout my years of cleaning trains have been shocking.
"I've found everything from bicycles and crutches to pushchairs and even a surfboard — you come across all sorts working night shifts!
"For me, there's no better feeling than finishing work and taking one last look at all the stationary trains lined up in the depot — spotlessly cleaned and ready to greet the busy commuters.
"I've been fortunate enough to attend a variety of training courses which have helped me progress to a Team Leader within the Presentation Team at Transport for Wales – I enjoy the job and we also get free rail travel which gives me flexibility when planning trips; I absolutely love it!"
Andrew started working for the Wales' railway network 13 years ago after seeking a new career challenge.
He said: "I was dabbling in the IT industry and then two of my friends - who were already night cleaners - suggested I give it a go, so I did, and I haven't looked back since!
"In the beginning, my sleeping pattern was all over the place and the long hours took some getting used to but I'm lucky to work with an incredible team — we support each other and always jump in if someone is struggling.
"Our banter gets us through all types of challenges!"
Nightshifters airs on BBC One Wales at 7.30pm on Friday, February 15. It will also be available on iPlayer.
Notes to editors
Photo credit: Hugh John/BBC Wales