13 Jan 2020
Lab by Transport for Wales: innovation as a driver for the transformation of Wales' rail network
Labordy Trafnidiaeth Cymru: arloesi i ysgogi'r broses o drawsnewid rhwydwaith rheilffyrdd Cymru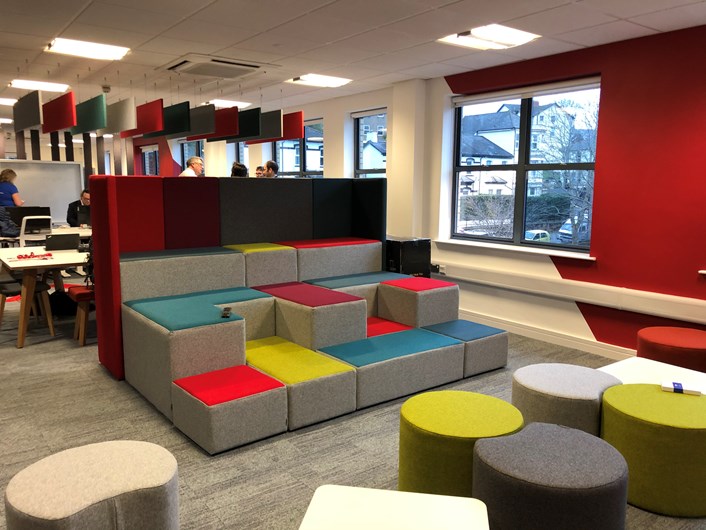 ONE year after taking over operations and maintenance of the Welsh rail network on behalf of Transport for Wales (TfW), TfW Rail Services inaugurated the Lab by Transport for Wales. An open innovation initiative for the benefit of travelers in Wales.
Led by TfW Rail Services, in partnership with Alt Labs, and fully funded by the public transport authority (TfW), the "Lab by Transport for Wales" opened its doors this month (9 January).
The Newport based project will see 8 start up businesses given dedicated advice and coaching to develop their product or service over a 12-week period. They will then present it to a panel composed of representatives from the PTA and TfW Rail Services.
For this first promotion of the "Lab", startups will be focusing on customer experience, a theme chosen by TfW and TfW Rail Services.
Customer experience is a key element in the transformation of the 1623 km of the Welsh network over the next 14 years.
Last year, Transport for Wales announced a £194 million Station Improvement Project, which is currently underway, with an £800 million order for new trains having been made and the development of a truly turn up and go, fully accessible south Wales Metro also making good progress.
Head of Customer Experience and Innovation Barry Lloyd said: "There are so many great ideas out there that, if developed in the right way, could transform the way we do things on our railway.
"Our Lab project is attracting both home-grown talent and that from further afield right here in Newport.
"We are really excited to be working with these brilliant, talented people and we are confident that the Lab project will help make Wales a rail and technological centre of excellence."
Startups based at the Lab by Transport for Wales, include companies from Caerphilly, Cornwall and even Germany. Throughout the programme, the start-ups will be supported by partners such as the cities of Cardiff and Newport, Cardiff University, the Development Bank of Wales or Business Wales, the Welsh Government's business development agency. Among the ten companies incubated, many promising innovation projects are to be developed.
Selected startups offer solutions ranging from route planning such as Big Lemon's project, which allow train passengers to compare their carbon footprint with other means of transport, to solutions using sensors for measuring passenger numbers and train status as pitched by UtterBerry and using Augmented and Virtual Reality to create intelligent spaces.
The winning companies in the programme will share £25,000 and will be offered the opportunity to collaborate with KeolisAmey.
Presented in the bid for Wales and Borders, the Lab is an inspiring example of innovation governance. For local startups, startups incubated in Newport contribute to the economic development of a post-industrial region in search of transformation. For KeolisAmey, the Lab is an opportunity to guide the development of innovative solutions that meet the challenges of the network and to build a relationship of trust, built on transparency, with TfW. Future promotions of startups incubated at the Lab will look intoother activities, such as maintenance or operations. In addition, incubated start-ups benefit from extensive support and a life-size field of experimentation to develop their solutions. Finally, travellers gain access to new services to improve their experience of the Welsh rail network.
Designed to become the innovation showcase for railways in the United Kingdom, the "Lab by Transport for Wales" is a real differentiating element for TfW Rail Services, and consolidates KeolisAmey's desire to position itself as the driving force behind the Welsh innovation ecosystem.
Notes to editors
The startups include:
Cleverciti - Manufacturers of overhead smart parking sensors. Cleverciti brings together all aspects of smart parking management technology in one integrated system – from overhead sensors to integrated mobile apps, management software and analytics. 

Big Lemon - Aims to build and deploy an end to end consumer platform that simplifies and informs passengers about their full rail experience.

Smart Bench - Aims to implement smart public seating benches to the rail network, subsequently improving environments in around stations and depots. This project looks to enhance customer and staff experience with the provision of services including device and smartphone charging, Wi-Fi, LCD display information and sensor information.

UtterBerry - UtterBerry sensors can monitor a number of structural changes including displacement and tilt.
They use small sensors to be able to detect a huge amount of different information including passenger numbers and status of the train, including any necessary repairs and the cause of damage. They are also able to detect environmental factors such as temperature and humidity.

Brite Yellow Limited - Provide Indoor Mapping, Wayfinding, and Asset Management solutions for transport operators that want to create intelligent spaces to improve user experience and unlock new revenue through Augmented and Virtual Reality.

Realtime Knowledge - An innovative digital platform, made up of workflow management and data capture tools that focuses on operational safety & security checks and inspections. In addition the  Realtimeknowledge.com  platform also offers a ground breaking suite of customer feedback tools.

Hiperview - Provide instant customer feedback analysis through digital surveys, and allow us to map a journey as well as where issues are caused.

PassageWay - Transforms connected totems, kiosks and screens into real-time transport and digital wayfinding signs. PassageWay signs display local multi-modal mobility information with real-time updates, enabling operators to reach out and push their information to potential new customers.