19 Feb 2021
Abergele & Pensarn railway station set to be transformed
Gorsaf Abergele a Phensarn i gael ei thrawsnewid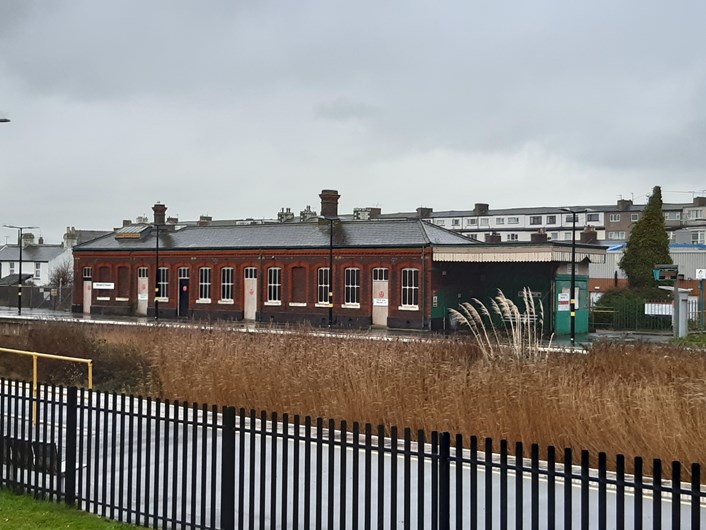 Station rooms in Abergele & Pensarn that have been left unused for decades are set to be given a new lease of life thanks to Transport for Wales' Station Improvement Vision.
As part of the multi-million pound vision, disused spaces at stations around the Wales and Borders network are being brought back to life for community or commercial use.
In Abergele & Pensarn, contractors are now on site transforming what was once the station's booking office and main building into a usable space.
They will be re-plastering, redecorating and upgrading lighting and heating systems. All windows and doors will also be repaired.
The project is also being supported with funding from the Railway Heritage Trust.
The Victorian station is on the key north Wales coastline linking Holyhead with Chester. It has been unstaffed for several decades and contractors were faced with a space that needed a lot of work.
Head of Community Rail Hugh Evans said: "Abergele & Pensarn is a beautiful station with so much history and potential.
"It was amazing to see what the space was like when we first looked inside, almost like stepping back in time. Being able to put the space to a real good use for the community will make a big difference to the area and we are proud to be delivering this project.
"Investing in bringing disused spaces at stations back to community or commercial use is a key part of our strategy because we know stations are more than just somewhere you get on a train, they are community hubs. We'd also like to thank the Railway Heritage Trust for their support of the project."
While a tenant is yet to be confirmed, the project follows hot on the heels of similar projects at Llandudno, Llandudno Junction, Abergavenny, Barry and Swansea, all of which have exciting projects lined up.
The work has been welcomed by Abergele Mayor Cllr Alan Hunter.
He said: "The work being carried out by Transport for Wales to bring the Abergele & Pensarn Station buildings back in to use is a major step forward in the regeneration of the area.
"There is real excitement and interest from local people as to what will be coming to the area.
"The plans to share the station with community groups has been well received and will be a massive benefit to local residents, communities and the wider public who use the station.
"I would like to thank Transport for Wales and their team for choosing our station at Abergele Pensarn for regeneration and look forward to seeing the completed work and the buildings open for use."
Andy Savage, Executive Director of the Railway Heritage Trust, said: "The Railway Heritage Trust gives grants to find new uses for disused spaces in Network Rail's heritage railway buildings.
"As Abergele and Pensarn is a listed building we have had our eye on it as a potential project for some years, and we have been delighted to award TfW Rail a grant of over £210,000 towards restoring the building.
"Our grant has been particularly focussed on ensuring doors and windows are correctly reinstated, so as to not only improve the appearance of the buildings, but also to make them much more usable.
"We look forward to seeing the buildings back serving the community and the railway once more."