03 Jul 2020
Transport for Wales update for public transport users
Diweddariad Trafnidiaeth Cymru ar gyfer defnyddwyr trafnidiaeth gyhoeddus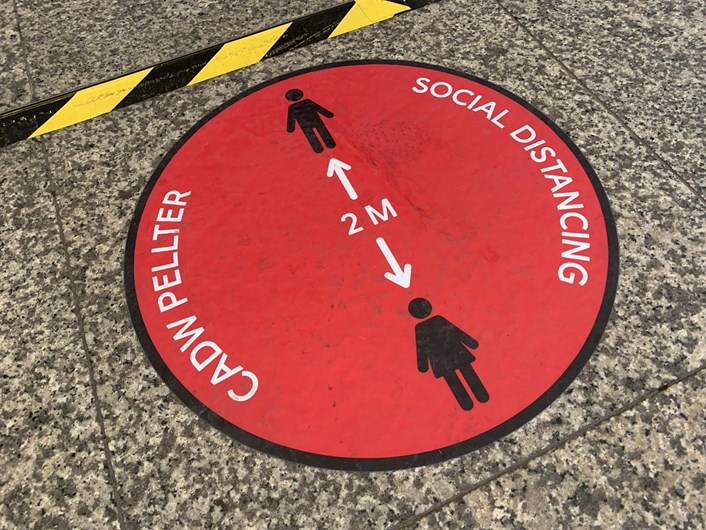 Transport for Wales (TfW) is issuing a clear update to all public transport users following changes in advice from UK and Welsh governments, urging people to only use public transport for essential travel and where there are no other travel alternatives.
This Saturday will see some pubs reopen in England. In addition from Monday in Wales the rules will change to allow people from two separate households to form one exclusive, extended household. Monday will also see the end of the five-mile 'stay local' guidance.
It is anticipated these changes might encourage more journeys, so TfW are reinforcing the message that public transport should be used for essential travel only. This is to ensure there is enough space for key workers and those with no alternative option to continue to travel safely.
TfW has already introduced additional safety measures in their stations and on trains including social distancing, one-way systems, additional cleaning and is encouraging people to follow government advice regarding face coverings.
They are also piloting a 'capacity checker' that will allow transport users to plan their journeys based on how busy trains are. This is early on in its development and will be improved gradually over the coming weeks.
James Price, Transport for Wales CEO said:
"The safety of our colleagues and customers has, and will always be, our top priority.
"Covid-19 is an evolving situation and over the next week there are important changes in advice from UK and Welsh governments. However, we need to reinforce our travel safer campaign highlighting that public transport is for essential travel and where there are no other travel alternatives.
Transport for Wales is also updating its timetable based on potential changes in the number of people travelling and is encouraging people to check their journey in advance by visiting www.tfwrail.wales.
Notes to editors
Transport for Wales has also updated Travel Safer:
Stay safe - only travel if it's essential to help those with no other option and don't travel if you're feeling unwell
Avoid busy periods – try not to touch surfaces like buttons, doors or your face and try to avoid eating.
Follow our latest travel advice - stay 2 metres apart, wash your hands regularly and consider wearing a face covering.
Exercise while you travel – walk or cycle for short journeys if you can
Respect our staff and other passengers at all times