04 Sep 2019
Transport for Wales Invite to Valley Communities
Gwahoddiad Trafnidiaeth Cymru i Gymunedau'r Cymoedd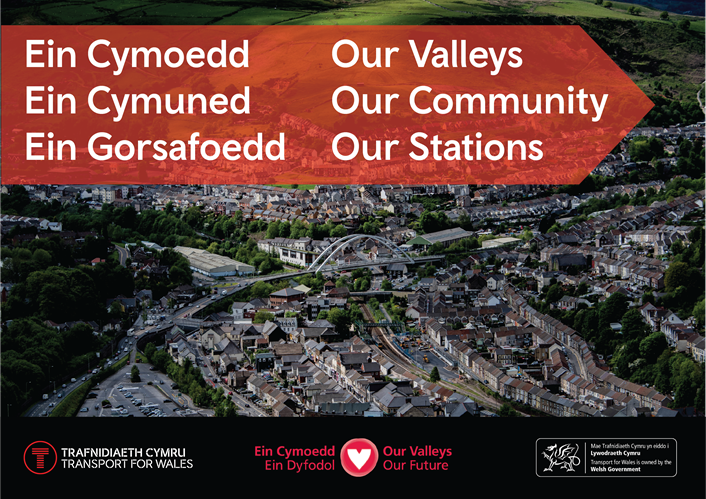 Transport for Wales and the Valleys Taskforce are running a roadshow campaign throughout key locations in South Wales so that local communities can learn about improvements being made to their transport network and the opportunities available to them.
The events are taking place in Merthyr, Neath, Bargoed, Tondu, Ebbw Vale, Aberdare and Pontypridd and will provide local people with an opportunity to meet with representatives from Transport for Wales, local authorities and local Assembly Members to discuss future transport improvements.
Transport for Wales are supporting the Valleys Taskforce with their ambitious plans to make a positive difference to the lives of people living in the Valleys. They want to use this opportunity to connect with communities, revealing their plans around the South Wales Metro and how this will enhance transport links to jobs, education, leisure and recreation.
Deputy Minister for Economy and Transport, Lee Waters AM, Chair of the Valleys Taskforce said:
"We know affordable and reliable public transport is the number one issue for communities in the Valleys and improving transport options will provide better access to jobs, education and vital services.
"The local community has an important role to play in shaping the future of transport in the Valleys and the roadshow events provide a great opportunity for people to learn more and share their opinion on the way forward."
Transport for Wales have a clear focus on developing relationships with the communities they serve, and their plans include bringing disused station space back to life for Wi-Fi hubs and community learning. There are also plans for community rail projects and station adoption, and the roadshow campaigns are an opportunity for communities to explain what they want from their local stations.
James Price Transport for Wales CEO said:
"It is essential that we value the contribution communities can bring to our network and fully maximise the contribution that our services can bring to communities."
For more information about community rail and how to get involved please visit:
https://tfwrail.wales/community-rail-partnerships
Notes to editors
Dates, times and locations of the events:
12.09.19
16.00 – 19.00
Redhouse, Merthyr.
19.09.19
16.00 - 19.00
The Castle Hotel, Neath.
26.09.19
16.00 – 19.00
Bargoed Library, Bargoed
30.09.19
16.00 – 19.00
Coleg Cymunedol Y Dderwen, Tondu
10.10.19
16.00 – 19.00
Ebbw Vale Institute, Ebbw Vale
17.10.19
16.00 – 19.00
Coleg y Cymoedd, Aberdare
24.10.19
16.00 – 19.00
Pontypridd Rugby Club
There are currently 5 Community Rail Partnerships, TfW will increase this to 12 by 2023 and increase station adoption to 90%, including an investment of £9 million into station spaces.