03 Aug 2020
Transport for Wales bus pilot extends to Denbighshire
Cynllun peilot Trafnidiaeth Cymru ar gyfer bysiau yn ymestyn i Sir Ddinbych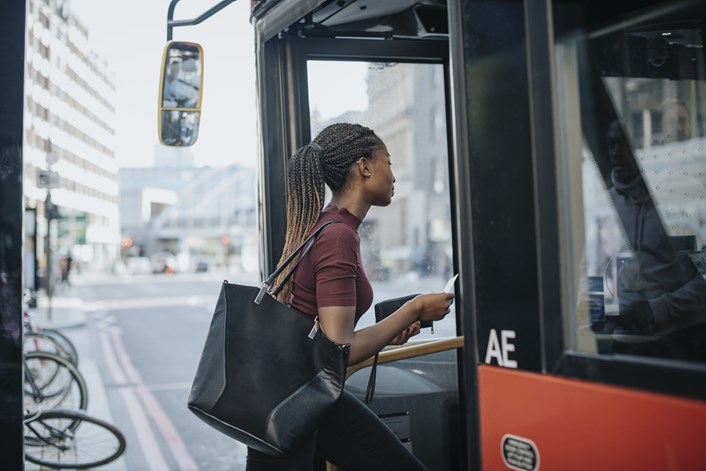 Transport for Wales (TfW) is working in partnership with Denbighshire County Council, M&H Coaches and Townlynx to extend the 'fflecsi' pilot scheme to Denbigh and Prestatyn.
Fflecsi allows people to request a demand-responsive bus to pick them up near home, work or shops for essential travel, rather than following a set timetable at fixed bus stops.
Powered by technology from ViaVan, fflecsi was first launched by TfW and Newport Bus in May, replacing a number of scheduled local bus services in Newport. It has also since been rolled out by TfW in other parts of Wales, including in partnership with NAT Group in north Cardiff and with Stagecoach in Rhondda Cynon Taf.
Riders will be able to book a seat through the fflecsi mobile app, or by calling 0300 234 0300. To book, riders select a desired pick-up and drop-off location, and will be matched with a seat in a high-capacity bus that is fully compliant with public health guidelines for social distancing.
ViaVan's technology will direct passengers to a nearby "virtual bus stop" for pick-up, allowing for quick and efficient shared trips without lengthy detours, fixed routes or schedules.
After the initial success in South Wales, the pilot scheme is now being rolled out in Denbighshire as the next stage in its development.
The M&H Coaches 66 service in Denbigh and the Townlynx 40 service in Prestatyn are becoming fflecsi services from today (3 August).
Service areas have been designed for essential journeys. The services will include key destinations such as railway and bus stations, health and leisure facilities, supermarkets and the town centre.
As part of the pilot schemes, fflecsi services in Denbigh will run between 09:00 and 18:00, Monday to Saturday, while fflecsi services in Prestatyn will run between 09:30 and 14:30 Monday to Friday.
James Price, Transport for Wales CEO, said:
"fflecsi is a very exciting trial for us as we continue to transform public transport in Wales. The ongoing covid-19 pandemic has had a direct impact on public transport and as we move forward the safety of our colleagues and customers continues to be our top priority.
"This new pilot scheme offers us the opportunity to look at a new way of operating public transport and in these current circumstances it will allow bus companies to move people while maintaining a social distance.
"I'm delighted that fflecsi has been positively received in South Wales, and I'd like to thank everyone involved for their hard work in achieving this. I look forward to finding out what we can learn from the next stage of the pilot scheme in Denbighshire and how we can potentially apply this in other areas in the future."
Cllr Brian Jones, Denbighshire Council's Lead Member for Waste, Transport and the Environment, said:
-"As we emerge from lockdown and see an increased demand for public transport, fflecsi will offer peace of mind for passengers, including guaranteed seats, flexible drop-off points, reduced waiting times and better connections to other services.
"Fflecsi will see increased services for passengers to help keep our communities connected while ensuring they feel safe using public transport and visiting our town centres."
Chris Snyder, ViaVan CEO, said:
"Demand responsive transport has the potential to quickly launch new, technology-driven public transport solutions where the need is greatest, and to complement extend existing fixed route infrastructure where it is already working well. fflecsi has demonstrated how DRT can play a vital part in transforming public transport in Wales, and we are proud to continue to expand this flexible mobility solution with Transport for Wales in Denbighshire."
Transport for Wales is looking to expand the service across Wales over the coming year, adding new services, features and learning from the pilot work.
To find out more, including details of the services and how to book, please visit https://fflecsi.wales.