16 Aug 2019
The Heart of Wales: A Credit to Community Rail
Calon Cymru: Clod i Reilffyrdd Cymunedol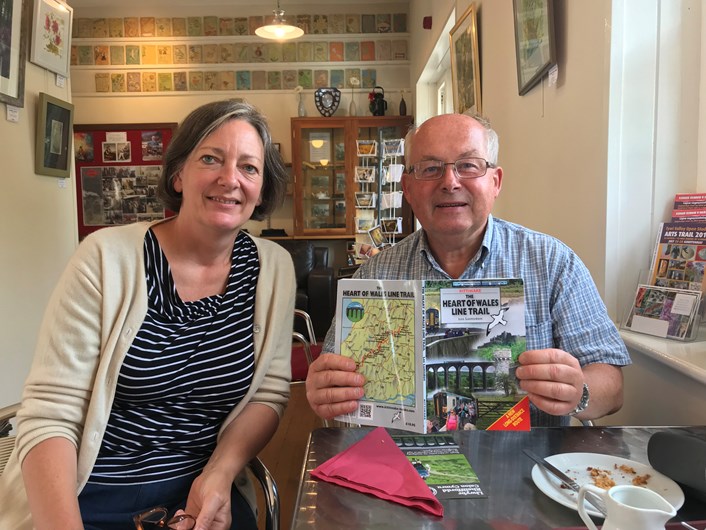 The Heart of Wales line has seen its Community Rail Partnership receive official accreditation from the Department for Transport and Welsh Government
Following hot on the heels of the Cambrian Line, the Heart of Wales Development Company has become just the second in the UK to receive the new quality benchmark.
Accreditation is managed by the Association of Community Rail Partnerships (ACoRP) on behalf of the Department for Transport.
Looking at all aspects of the partnership from its policies and procedures to its future business plan and how it invests its funding from Transport for Wales, accreditation shows that the Development Company is running the Community Rail Partnership as a responsible organisation.
The partnership has delivered a number of key achievements in promoting the line over recent years, notably the creation of the Heart of Wales walking train, the 150th celebrations and the development of the cafe at Llandovery station.
"It's fantastic news for us to have that benchmark of quality," said Lisa Denison, Development Manager for the Partnership.
"It will allow us to bid for ACORP funding and also means that we have a stronger voice when working with rail partners to influence service delivery changes such as timetabling, fares or station development.
"Rail tourism is a big growth area for us. For example we are seeing a large growth in passengers and enquiries since the launch of the final section of the walking trail.
"We are developing new plans, linking the line to local economic regeneration plans and sustainable transport development. We have an important role to play in local communities from supporting employment projects to creating enterprise and linking businesses across a wide geographic area and accreditation will hopefully strengthen our voice at both a local and national level."
The partnership has been running for a number of years and formalised it's structure as a Development Company, over 10 years ago around a community bid to save and renovate the station building at Llandovery. Once achieved, the building was leased to the Friends of Llandovery station who have run a cafe there since it reopened in 2011.
Since then it has also created a community hub building in Llandeilo and developed the 150th anniversary celebrations of the line that saw HRH Prince Charles and the Duchess of Cornwall travel on the line last year.
(Llandovery Station)
The Heart of Wales Line walking trail comprises 16 different routes between stations which are viable in terms of meeting connecting trains.
It was developed and is now managed by a dedicated Heart of Wales Line Trail Steering Group, who worked tirelessly for two years with local authorities and agencies to open up the route for long distance walkers. A walking book listing all the routes written by Professor Les Lumsdon was published in March and is selling well.
Copies are available via https://kittiwake-books.co.uk/ and have also been on sale during the Royal Welsh Show.
The walking route opened in full earlier this year in Llandrindod Wells and includes 141 miles of walking trails across Carmarthenshire, Powys and Shropshire.