23 Jul 2021
Taff's Well biodiversity project delivered by TfW and Alun Griffiths
Prosiect bioamrywiaeth Ffynnon Taf yn cael ei ddarparu gan TrC ac Alun Griffiths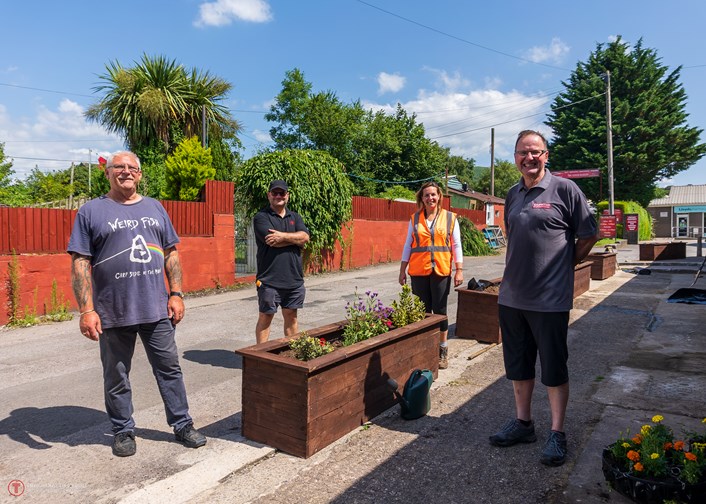 A project to boost biodiversity at Taff's Well village hall has been launched by Transport for Wales and leading civil engineering and construction contractor Alun Griffiths.
On Saturday (17 July) 10 large flower planters and wildlife and bug boxes were installed at the village hall by volunteers from the local community and staff from TfW and Alun Griffiths.
Mike Phillips, chairman of Taff's Well village hall, commented: "This is a wonderful project and the best thing of all is that the community gets involved with it.
"It's a wonderful community here in Taffs Well, we've been flooded with volunteers, people coming here day after day and giving up their time just to help us.
"This will probably run for the next two months and every Saturday there'll be somebody here. If somebody has half an hour spare, great!"
The project is part of a wider TfW scheme designed to support biodiversity enhancements at 22 stations across the network in Wales, and at five community areas located close to the train stations as well, as a way to join up green routes across the train network.
TfW has received a £100,000 Local Places for Nature grant from the Welsh Government and The Heritage Fund for the project.
Dr. Louise Moon, project manager for sustainability for Transport for Wales, said: "The project is designed to support more biodiversity features at the hall, which is located just down the road from the train station, to support particularly pollinators and encourage pollinators to use this area.
"It will support nature and give them an access route between the landscape of the station and the railway and the wider community."
It is the second project Alun Griffiths have completed in Taff's Well in recent months, having donated a large amount of timber for benches and planters at Taff's Well Memorial Garden when they lost all their wooden furniture in floods.
Terry Davies, public liaison officer for Alun Griffiths Construction on the rail division, added: "Alun Griffiths is very pleased to be associated with Transport for Wales and Taff's Well village hall and to help with this wonderful project of biodiversity to help the community.
"We built some planters at our Taff's Well site, we brought them over and the community have rallied round.
"We're very pleased to be of help by providing the planters for this project."
Notes to editors
Photo (left to right) Mike Phillips Chairman of Taff's Well Community Hall, Tomos Davies Transport for Wales Community Engagement Officer, Dr Louise Moon project manager for sustainability for Transport for Wales and Terry Davies public liaison officer for Alun Griffiths Ltd