17 Jun 2022
South Wales Metro - Taff Trail Diversion
Metro De Cymru – Gwyriad I Lwybr Taf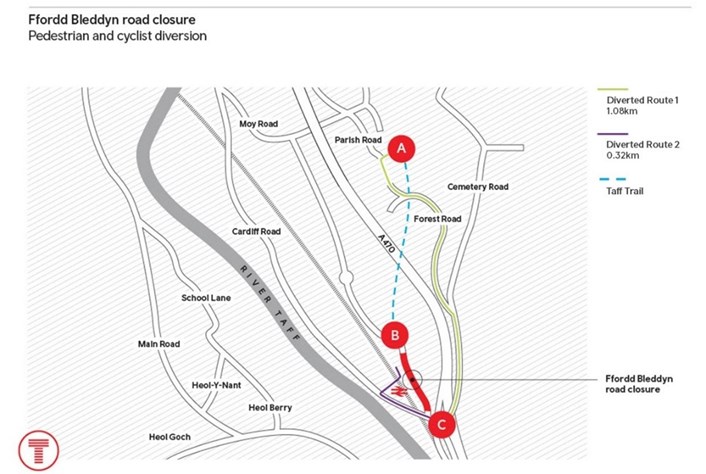 In August 2021 a section of Ffordd Bleddyn road was closed to vehicles to allow for improvement works to be carried out for the creation of an under-bridge tunnel, which will allow our trains to enter the depot site from the existing tracks just South of Taff's Well Station. Since then, a footpath for cyclists and pedestrians has remained open.
On Monday 20 June 2022, Ffordd Bleddyn road will be fully closed to road users, pedestrians, and cyclists.
The full closure will include a small section of the Taff Trail being out of use, with diversions in place for the closure lasting until Summer 2023, with the full reopening of Ffordd Bleddyn road. The diversion routes for the Taff Trail are shown in the above map, with diversion route 1 shown in green.
Diversion route 1 asks pedestrians and cyclists travelling Southbound to exit the Taff Trail to join Parish Road and continue onto Forest Road. Pedestrians and cyclists then continue South to reach Cemetery Road, where they will then join the function onto Cardiff Road, arriving at point C on the diversion map.
A 6-week improvement programme has been undertaken on the diversion route to ensure that it is suitable for pedestrians and cyclists. This work included the creation of a cycle lane along a section of Cemetery Road, new pedestrian crossing points, improvements to existing footpaths and new signposts. We also installed traffic calming measures along Cemetery Road, including speed bumps.
We'd like to thank you for your patience as we continue our work to deliver Metro within Taff's Well. Our team is available to answer your questions 24/7, so please call us on 033 33 211 202. Alternatively, you may contact us via WhatsApp on 07790 952507 (0700-2000 on Monday to Friday, 0800-2000 on Saturday, and 1100-2000 on Sunday).
If you seek more information or would like the information presented in a different format, please visit tfw.wales/contact-us. You can learn more about our vision for the South Wales Metro by visiting tfw.wales/projects/metro, and about our work to build the Metro at tfw.wales/projects/metro/building-our-metro.