08 Jul 2019
Blazing a trail for community rail; Cambrian Railway Partnership on track for Accreditation success!
Arwain y ffordd i reilffyrdd cymunedol: Partneriaeth Rheilffordd y Cambrian ar fin cael ei hachredu!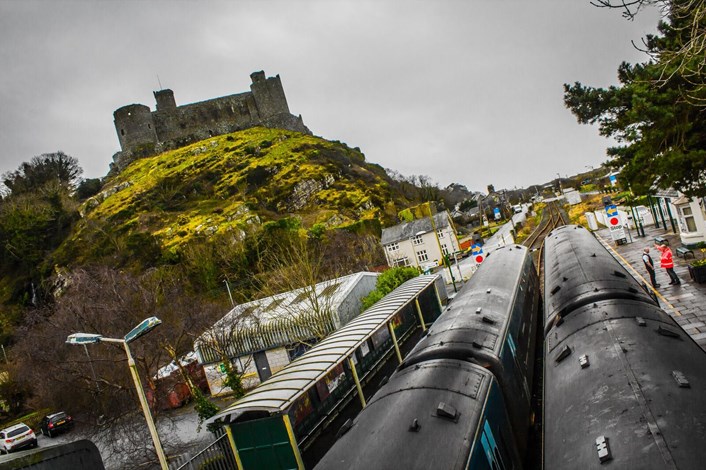 The Cambrian Rail Partnership achieved a significant milestone this week by becoming the very first Community Rail Partnership in the UK to achieve Accreditation.
The phenomenal success of the partnership has been heralded as vital for the growth of the line.
Accreditation means that a partnership has met the Department for Transport's, and Welsh Government's standards for Community Rail operation. The process involved meeting a stringent criteria based on a solid foundation of business planning, financial management and adopts a collaborative approach and is a representative voice of their community.
Community rail is all about ensuring communities get the most from their railway.
Working alongside local, regional and national partners the Cambrian Community Rail Partnership and play an important role in social inclusion, community wellbeing and economic development whilst promoting the railway as a key part of sustainable, healthy travel.
Since it was established several years ago, the partnership has held numerous events and promoted the line, including the ACoRP award winning "Taking the beach to Birmingham" in New Street Station last year. Partly thanks to its excellent work, passenger numbers have grown considerably on the line.
In 2004/5, just 206,844 travelled on the line. By 2018/19, the numbers have risen to 462,734.
(Claire Williams, second from left, at the launch of Transport for Wales' Community Rail Vision with Minister for Economy and Transport Ken Skates AM)
Claire Williams, Cambrian Rail Partnership Development Officer said: "One of the most important contributions of community rail is bringing partners and community together. Towns and villages have benefited from the wider promotion such as tourism but also developing a greater sense of pride and ridership. We are one family in Wales and The Borders railway and I'm delighted with our success, it's a significant milestone and one to celebrate"
Hugh Evans, Head of Community Rail at Transport for Wales Rail Services said:
"This is a phenomenal achievement and I'm so pleased for Claire for all her hard work. We've always led the way for Community Rail in Wales and the Borders and this is just another example of that. Community Rail has helped make a success of so many different lines around our network, growing tourism and promoting the railway amongst local groups, showing how it can work for them. It's brilliant that the Cambrian is the first in the UK, but all our partnerships do excellent work and are invaluable to making the service work for all our communities."
UK Rail Minister Andrew Jones said: "The Cambrian Railway Partnership plays an important role on our rail network, providing purpose and pride, and giving people a say in how their local rail network can work for them.
"Through our new Community Rail Strategy, this government is focused on supporting the growth of many more successful community rail partnerships across the country."
Jools Townsend, chief executive of the Association of Community Rail Partnerships, said: "We're excited to see Cambrian Community Rail Partnership, one of more than 1,000 community rail groups across the country, leading the way as the first to be accredited in the UK. This new scheme is a seal of approval that holds up Cambrian CRP as a great example of a forward-thinking community rail partnership, promoting green tourism in a way that really enhances, benefits and celebrates this beautiful part of the world."