07 Oct 2021
Why trains are busy: frequently asked questions
Pam mae trenau'n brysur? Cwestiynau cyffredin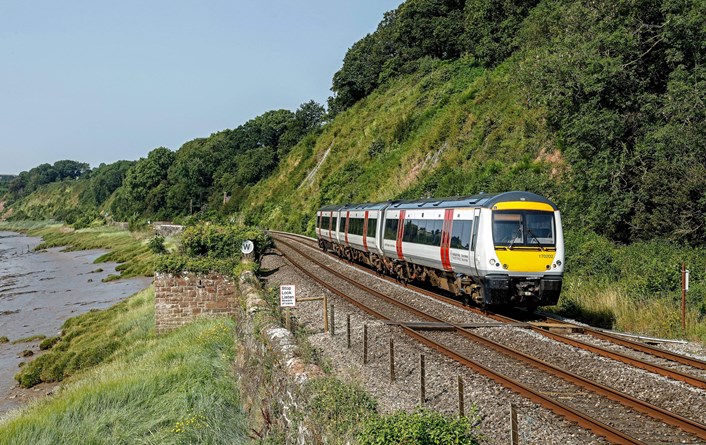 Over the last few months, we have been experiencing a significant increase in demand on many of our rail services. This has come in the aftermath of the lifting of lockdown restrictions and during the summer holidays, with more people enjoying holidays trips in the UK and local day trips.
This increase in the number of people travelling with us outside traditional peak times has led to some trains being busy. Despite social distancing restrictions being lifted in England and Wales, this will clearly be of concern to some of our customers. We have been working hard to alleviate this as much as possible, by adding extra carriages to the busiest services and providing buses to supplement trains. However, there are a number of key issues we face in responding to this.
We spoke to Colin Lea, our Planning and Performance Director, to find out what we're doing to respond to some of the biggest challenges we're facing, and answer some of the most frequently-asked questions we receive from customers via our social media channels.
Why aren't you running a full timetable?
While many of the COVID-19 restrictions that were in place have now been lifted, allowing us more freedom to travel, some restrictions remain in place such as self-isolation for positive COVID-19 tests or close contacts. This has impacted the way we operate our services, with additional absence in key operational roles through to significant delays in traincrew training courses.
The safety of our colleagues and customers is our top priority. However, this does mean that we cannot currently offer our full timetable sustainably until impacts from COVID-19 reduce further.
Added to this, rail timetables throughout Great Britain are all part of one interconnected system, brought together by our industry colleagues Network Rail, who are the system operator. Our services interact with those from a number of different operators, and they in turn interact with even more services from the rest of the operators throughout the network. This means that crucial pinch points in the network have to be worked through and definitive 'paths' given to each operator. Therefore a train in Swansea may need to be timed to meet a defined pathway into Manchester Piccadilly, rather than necessarily being optimal in South Wales.
Any timetable changes by other operators will also have a ripple effect on our services. Timetables therefore have to be updated in conjunction with each other. The most recent national timetable update took place on 13 September, in which we restored more services (around 8.5% extra), and we're working on plans to restore more services in future updates, particularly from May 2022 ahead of another busy summer period, as well as adding new services in years to come after the introduction of our brand new trains.
Why can't you add more carriages?
Trains come in different width profiles, known as loading gauges, meaning they don't all fit on all parts of the network. For example, Pacer trains used to travel anywhere on the Valley Lines. They have gone, but the trains replacing them - Class 769s - are only able to run between Rhymney and Penarth. Class 170s are also only able to operate on certain lines in South Wales, and the situation on the Cambrian Line is complicated as only one fleet – the Class 158s - is compatible with its unique signalling system.
Trains also have different top speeds and acceleration rates which make them appropriate for certain routes. A Class 175 has a higher top speed and is more suited to a longer distance journey than a Class 230 which cannot achieve the same top speed, but will be more suited to a stop-start metro style route.
Some railway station platforms are longer than others and thus only certain trains can stop at certain platforms. This creates a further constraint on the way we can use our trains.
Diesel trains also have fuel tanks which vary in size and mean a train has a limited range before it needs to return to depot for refuelling. This can affect which circuits trains are placed on so that they don't run out of fuel. Every so often a train will fail with a fault and need to return to the depot for repairs or undergo maintenance exams, like a car does with an MOT. We carefully track the reliability of our trains and work hard to spread the impact of these exams to keep the highest number of trains available at any one time.
Each type of train has a different set of controls to operate it – a different mechanical setup if you like. We have many train crew depots across the network and each colleague at these depots 'sign' certain types of train and certain routes too. To change the trains or routes colleagues sign would involve training programmes of many months, if not years, and so are generally constraints on the use of certain trains in certain places.
Operating the railway is somewhat of a multi-dimensional puzzle, and although we strive to get the right capacity at the right place at the right time, it is not always possible to achieve.
Why can't you bring in more carriages into the fleet?
The majority of our services are run by diesel trains. However, more railways being electrified and the UK Government has set a target to remove diesel trains from the network by 2040. Because of this, train manufacturers scaled back the number of diesel trains they built. Britain's train operators are therefore in a difficult position, where their fleets of diesel trains are ageing, and there are very few older trains available from other operators to bring in as an interim solution.
Very few spare diesel trains are available and in fact we have even had to bring in previously electric trains which have been converted to diesel to provide additional capacity. This is complex and takes a long time to achieve.
Older trains also need to comply with a specific set of accessibility standards and those diesel trains which are available do not comply. They need many months of changes to allow them to comply and so are not a quick fix.
At Transport for Wales, we're awaiting the arrival of our new diesel trains for Wales and Borders services, as well as the completion of the electrification of the Core Valley Lines and arrival of the new electric trains for South Wales Metro services. We'll be keeping some older diesel trains until the new trains arrive.
I saw carriages at a depot – why can't you use them?
Our trains travel hundreds of miles every day and require careful maintenance to ensure they continue to run safely and reliably. As a result, they have to undergo a series of examinations after hitting certain distances covered, just as a car has to be serviced – this means they will be out of service until this is completed. At major milestones, trains are required to undergo more rigorous servicing, which means they are out of service for longer.
This work is undertaken at our depots throughout our network. Usually the trains you see parked up at the depot are those requiring examinations or have failed and are undergoing repair.
It's also worth noting that there is ultimately a limit to the number of trains that we can run on each route. Railway lines are limited in capacity in a number of ways – the track, signalling and line speeds limit the frequency of services, while platform lengths limit the lengths of trains. If we have a dedicated fleet for specific lines of route, and this is served by the maximum number of trains in service, this may leave a small number of trains left over which then cannot be used on another route because they aren't compatible.
I saw more carriages being used on a different service which was quieter – why is that?
Every day, we have a set number of trains in service circulating around different parts of the network. Each train in service works a "diagram" – this is a series of circuits that follow one after the other until the end of the day. These diagrams are developed by our Planning team to make best use of the resources that we have available, including trains and the traincrew available to operate them.
The Planning team use a large amount of data to make decisions on the number of carriages to provide – specifically the number of passengers that usually travel on a specific service, or, in the case of a major event, are expected to travel. If you see a quieter train with more carriages heading in the other direction, chances are it has either recently operated a busy service in a previous stage of its diagram, or it's going to operate a busy service on the next stage of its diagram.
Following disruption, trains sometimes find themselves in the wrong place versus the original plan and this can mean the capacity available is not well matched to demand. Demand for services can vary hugely when there are events in place and plans are changed to improve capacity for those events, but this will have impacts elsewhere, often over a hundred miles away from the event.
Why did you withdraw some of your trains if you knew your services were getting busier?
Back in May, we permanently withdrew our Pacer trains. These were the oldest trains in our fleet, and were no longer suitable for operation. In particular, they did not meet accessibility requirements, providing inadequate facilities with people with reduced mobility.
We kept the Pacers in service for as long as we possibly could to provide additional capacity for our customers during the COVID-19 pandemic, during which time we paired them with more accessible 'Sprinter' trains. However, there was always going to be a limit to how long we could operate them, and this expired at the end of May 2021.
What are you doing about the lack of capacity?
Our brand new fleet of trains is currently under construction. This will see a fleet of 77 new Class 197 trains for the Wales and Borders network. Construction of these trains is well underway at manufacturer CAF's factory in Newport, and the first trains are currently undergoing testing in North Wales. This new fleet will be supplemented by a small number of refurbished trains that will be retained from our current fleet to operate a select number of high quality intercity services.
We're also building three different types of new rolling stock that will be dedicated to different parts of the South Wales Metro network, in partnership with manufacturer Stadler. We're developing the electric tram-trains for services between Cardiff and Treherbert, Aberdare and Merthyr Tydfil, while the FLIRT tri-mode trains will be dedicated to services between Rhymney, Coryton and the Vale of Glamorgan. The FLIRT diesel trains, will operate on services between Cardiff, Ebbw Vale, Maesteg and Cheltenham.
Overall, the new fleet will have a greater capacity than our current fleet, but will also provide us with a lot more flexibility across our network. Building a standard fleet for the Wales and Borders network will remove some of the challenges we currently face as a result of operating several different types of train on these services, while the small fleets dedicated to the South Wales Metro will mean we have a fixed number of trains operating Metro services, ensuring capacity remains stable. The new trains will require less maintenance and in time will be far more reliable than our current ageing trains, meaning we'll have a higher proportion of trains available each day.
In addition to this, we're also introducing Class 230 trains on the Wrexham-Bidston Line. These totally rebuilt diesel-hybrid trains will be the first step in providing a metro-style service in North Wales and the Borders, as part of the development of the North Wales Metro. Crew training is currently underway and the trains are planned to enter service later this year.
We have also gone above and beyond our original commitments to acquire extra trains on top of this. Our Class 769 fleet was originally going to be only 5 trains, but this was expanded to 9, while we have also acquired extra Class 153 trains to provide additional capacity. We also recently announced that we have acquired extra Mark 4 carriages so that we can provide intercity trains on services between South Wales and Manchester, and longer trains between Cardiff and Holyhead once training and conversion work has been completed.
Why are some of the new trains you have ordered only two carriages? Is this actually going to increase capacity?
51 of the Class 197 trains will be built as two-car trains and should be seen as building blocks. Most of the busy long-distance services that they will operate will see trains attached to each other to create four-car trains. If we had ordered four-car trains, we would not be able to split them at less busy times. This would create a problem if we were to have an issue with one of those trains – where an issue on a two-car train would mean we would be down by two carriages, an issue on a four-car train would mean we would be down by twice as many carriages.
If there's a shortage of diesel trains, why don't you electrify the railway so you can use electric trains?
Electrification of the railway is a major transformation process which requires heavy engineering. This takes several years to design, develop and build, and can be very disruptive to people who travel by train or live next to the railway.
We're currently working to electrify the Core Valley Lines as part of the development of the South Wales Metro, and we're working closely with local communities to ensure as little disruption to people's lives as possible.
The rest of the Wales and Borders network remains managed by Network Rail, which reports to the UK Department for Transport. As such, any electrification and modernisation of further lines is currently subject to UK Government approval.
In 2020, Network Rail published the interim programme business case for its Traction Decarbonisation Network Strategy, which proposed the electrification of most of the network, including the key routes linking North, South and West Wales. Non-electrified routes would be operated by trains powered by batteries or hydrogen. We're working closely with them to understand how the modernisation of the network can be delivered so that we can provide faster, more frequent and greener services throughout the network. However, this will not be a quick fix.
The Welsh Government's aspiration is for the management of the railways in Wales to be devolved to Wales, which could allow us to modernise the network faster.