03 Dec 2021
Our work with the Armed Forces Community
Ein gwaith gyda Chymuned y Lluoedd Arfog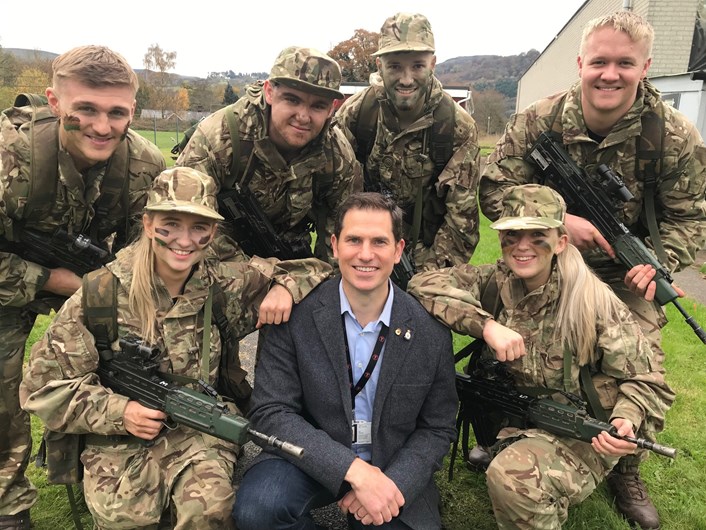 At Transport for Wales, we're proud to support the Armed Forces community. As part of our ambition to be one of Wales' leading inclusive organisations, we're continuing to support those who have served in the Armed Forces, both as an employer and a service provider.
We spoke to our Rail Infrastructure Director Karl Gilmore about our work over the past two years. Karl is a passionate champion for the Armed Forces community, having served in the Army for over 14 years prior to moving into the rail industry, and is taking a leading role in supporting colleagues who have served in the forces and promoting the work we're doing to build a diverse team that mirrors the communities we serve.
The Armed Forces Covenant
One of the first steps we took to establish links with the community was the signing of the Armed Forces Covenant in early 2020.
The agreement acknowledges and understands that those who serve and who have served in the armed forces, and their families, should be treated with fairness and respect in the communities, economy and society when they serve with their lives.
As part of the pledge, we ensure that no member of the Armed Forces community will face any disadvantage during recruitment and in some circumstances special treatment may be appropriate, especially for the injured or bereaved.
I was proud to be a part of signing this pledge to support and provide opportunities to people who serve or have served in the Armed Forces. There is an opportunity to draw upon a pool of highly trained, talented and motivated individuals from the Armed Forces community, to help TfW transform transport across Wales, and since signing the covenant, the number of veterans working within TfW has continued to grow.
We welcome applicants from the forces who will bring a wealth of vocational skills and experience, and we're working with the Career Transition Partnership and others to support the employment of veterans and service spouses/partners within TfW and the wider rail industry.
Veterans Railcard
We're also proud to support our customers who are members of the Armed Forces community, committing to treat those who have served and their families with fairness and respect in the communities, economy and society when they serve with their lives.
In November 2020, we supported the launch of the Veterans Railcard. This national railcard, which is available across UK rail services, gives veterans a third off standard and first class fares, as well as a third off fares for a named second person and up to four children travelling with the cardholder.
The Veterans Railcard is available in digital or standard format and anyone in the Armed Forces can apply using their Defence ID card, Veteran ID card or a certificate of service/discharge.
Applications can be made online at https://www.veterans-railcard.co.uk, or through the post. More details of how to apply can be found here: https://www.veterans-railcard.co.uk/where-to-buy/
Recognition
Earlier this year, we were delighted to have been recognised by the Ministry of Defence for the work that we have been doing to support the Armed Forces community.
In July, we became one of just 24 Welsh employees to receive Silver status award from the MoD's Defence Employer Recognition Scheme. This acknowledged the work we have been undertaking since signing the Armed Forces Covenant to provide more opportunities and create a more inclusive environment for the Armed Forces community within TfW.
As TfW's Armed Forces Champion, I was honoured to collect our Silver award at the Armed Forces in Wales Awards at the Cardiff City Stadium in November, and to be able to share the experience with like-minded organisations. A huge thank you and well done to the Reserve Forces' and Cadets' Association (RFCA) for Wales, 160th Infantry Brigade & HQ Wales, the Royal Navy and Royal Air Force for organising this fabulous event, and to those colleagues who assisted in developing our thinking and policies to reflect our commitment.
Developing future talent
Strong leadership is critical to any organisation, none more so than in the infrastructure sector. In November, the Civil Engineering Contractors Association (CECA) held their Wales Leadership Challenge, a two-day leadership and teamworking event in partnership with the Armed Forces and the Armed Forces Covenant at Cwrt y Gollen Training Camp near Crickhowell.
The Leadership Challenge is a unique partnership between the CECA Wales and the Armed Services which is aimed at increasing the leadership potential of our younger members and improving collaboration between our sectors. Bringing TfW's graduates, apprentices and future leaders together with some of the British military's leadership, is just one example of the ways in which we benefit from this partnership.
I was delighted that six of TfW's young talent, including members of our graduate and apprenticeship schemes from across the organisation, volunteered to represent us in the event. I'd be kidding to say I wasn't a little envious to see them all uniformed up and taking part in command tasks. A big thank you to everyone involved in organising, including CECA, the 160th Infantry Brigade & HQ Wales and the RFCA for Wales, and congratulations to our future leaders for taking part – I hope you had fun and learned a great deal from the event.
Creating opportunities
In November, it was a pleasure to help staff the joint Transport for Wales and Balfour Beatty stall at the Welsh Employment Fair, held at the Celtic Manor Resort by the Careers Transition Partnership. This was the first of these in-person employment fairs for Wales in 2021, and was held in partnership with the Welsh Government, RFCA for Wales and 160th Infantry Brigade & HQ Wales.

These events are an invaluable opportunity for service leavers to meet possible employers, but more so for the Welsh employers to see first-hand the quality of individuals within the Armed Forces community seeking employment. Thank you to those involved in organising the event and all attendees.
Remembrance
November is always a sombre time for the Armed Forces community. On the morning of 11 November this year, I was honoured to once again take part in two remembrance events in Cardiff.
The first of these was Poppies to Paddington, where we were joined by the First Minister and other senior leaders from our rail industry partners in handing over wreaths to a train bound for London for the Remembrance service. The second was our annual Remembrance service at the war memorial within the station building at Cardiff Central. Alongside this, we also lit up our headquarters building in Pontypridd in red to mark the occasion.
We were proud to support these events to ensure that those who have made the ultimate sacrifice in wars and conflicts throughout the world are remembered, including those who have worked in the transport industry. It remains a profound reminder of the importance of peace, unity and respect.