08 Feb 2022
National Apprenticeship Week – catching up with our apprentices
Wythnos Genedlaethol Prentisiaethau – dal i fyny â'n prentisiaid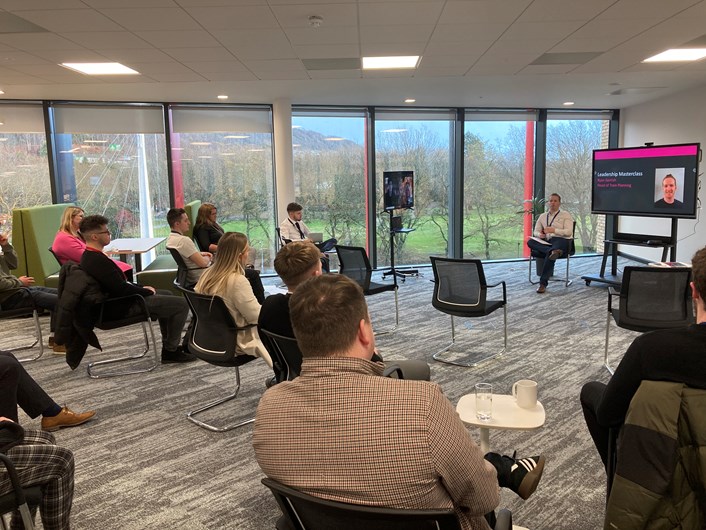 This week is National Apprenticeship Week, a celebration of the work apprentices up and down the country do every day, and a chance to raise awareness of the opportunities available for young people to progress in their careers.
At Transport for Wales, we recruit apprentices in many departments across the business, and in 2021, we launched Academi Prentisiaeth, an academy programme that helps our apprentices grow within their roles and provide them with the skills to progress.
We spoke to some of our current apprentices, and those who have used their apprenticeship as a platform to progress into permanent roles within TfW, to find out more about why they chose to do an apprenticeship, and what TfW can offer apprentices today.
What is your role and how long have you been working at TfW?
Demi Woodham: I'm a Craft Interchangeable Technician. My main field is electrical maintenance, fault finding and repair. I have worked at Canton depot for six years, four years of which I was an apprentice.
Josh Sheppard: I'm a Project Management Assistant working in the Infrastructure team at TfW. I joined as an apprentice in 2019 and completed the course in mid-2021.
Chloe Powell: I'm a Project Support Officer for the Station Projects team. I have been in the business since November 2020 as an apprentice.
Rhydian Llewellyn: I'm a Civil Engineering Apprentice at TfW.
Georgia Cope: I'm a Project Management Assistant at TfW. I started my apprenticeship in Project Management in March 2020.
Chris Reddington: I'm the social media apprentice in the Customer Relations team. I've only just started the role, beginning my TfW journey on 3 January.
Why did you decide to do an apprenticeship?
Demi: I did a year at college studying mechanical engineering. We attended a careers event where I met the apprentices at the time we discussed the work and I knew that is what I wanted to do.
Josh: I decided to do an apprentice since I never really excelled with traditional education, and it gave me a change to leave and give myself the best chance gain new skills and experience.
Chloe: Before my apprenticeship in TfW, I felt like my opportunities to learn and develop myself had dwindled, I had dropped out of college as I wasn't compatible with the classroom environment and I was working in a fulltime job which had no room for progression. In 2020 I was very fortunate when that changed, I applied for one of the many apprenticeships with TfW and decided that I wanted to learn and build a career.
Rhydian: It was always my intention to pursue employment in civil engineering but it appeared that the only option open to me at the time, was to enrol at college, which was over 20 miles away. At the time I had not passed my driving test so I could not commit to the course. I decided to apply for an apprenticeship so I could learn on the job and also study for academic qualifications whist earning a wage.
Georgia: I decided to do an apprenticeship after my first year of A levels and realising I was unhappy and that that wasn't the route for me. I had never even given an apprenticeship a second thought until I was talking to my older cousin and realising how well she had done, I never really knew about the wider variety of apprenticeships but only the more trades based ones.
Chris: I previously worked in Health and Social Care as an Eye Clinic Liaison Officer. During my time in that role, I learnt that I loved supporting people and working difficult problems. At home I had been helping friends and family out with social media and online content for years, and although I had knowledge, I had no formal qualifications or experience in the field. This apprenticeship seemed to combine the two and give me the experience I need to have in a career a profession I love.
What would you say is the best thing about being an apprentice?
Josh: Being immersed in the role has allowed me to get out to see the work that TfW is doing first-hand while gaining knowledge of a variety of disciplines and specialties. It has also allowed me to gain my IOSH managing safely certificate.
Chloe: The ability to put everything I learn into practice in my day-to-day tasks and to be supported by a team of knowledgeable colleagues. The classroom environment is now a fast-moving business that I am proud to have become a part of.
Rhydian: Being an apprentice allows me to attend college one day a week and gain work experience for four days. This gives me a great opportunity to develop my understanding of the industry in which I work.
Georgia: The opportunity to complete a qualification and be able to gain experience and knowledge along the way. When completing my assignments, it was so valuable having people in work to talk to and ask questions to get a full understanding.
What has been an apprentice enabled you to do and what have you gained whilst being an apprentice at TfW?
Demi: As an apprentice, I studied electrical and electronic engineering up to Foundation degree. Two years of BTEC, two years HNC and a year for foundation degree.
Chloe: Since being an apprentice I have gained a level 3 diploma in Business Administration which I was able to complete around 5 months early, a level 2 diploma in Digital Literacy and I will be starting a level 4 diploma in Project Management in April. I have also gained so many new skills on Excel, Teams and more bespoke software.
Rhydian: Since becoming an apprentice I have had many opportunities to learn about all aspects of what TfW do. Alongside my job I have been lucky enough to be awarded an ICE QUEST technician scholarship, which will help me develop my career even further as I work towards my first professional qualification.
Georgia: From being an apprentice I have gained my APM PMQ qualification and I have also met so many people along the way. I have gone on to do my IOSH and NEC3 qualification and have been able develop skills such as presenting in the Apprenticeship Academy and also in our TfW Sustainable Development forum.
Chris: At the moment I'm learning an awful lot, but what I have gained already is a sense of belonging. Everyone at TfW has been so welcoming and positive, from my manager and team members to people right across the business. I have really been made to feel part of a big family.
Would you recommend an apprenticeship to someone looking to undertake one and if so, why?
Demi: I always recommend apprenticeships. Being able to work and build my education was very important to me. We need money to live but that shouldn't come before our education.
Josh: Yes, wholeheartedly as long as you have some idea in what direction you want to specialise in.
Chloe: I would definitely recommend an apprenticeship to someone who is thinking of undertaking one, it helped open my eyes to the opportunities possible in my future and has made learning a more enjoyable and rewarding experience.
Rhydian: I recommend everyone to look into apprenticeships and see if they work for you.
Georgia: I would 110% recommend an apprenticeship to someone thinking about it. I was so hesitant to go for one and was the first one of my friends to go for it, it's the opportunity to earn and learn at the same time. You get to meet people in the industry and listen to their experience and what they do day to day and how they got to where they are now. Remember you'll be an apprentice and you're there to ask questions and take any opportunity you may be presented with.
Chris: Until I saw my apprenticeship advertised, I had never considered one. Looking back, I wish I had taken the opportunity sooner. I'm so excited about what my apprenticeship involves and the people I will be working with. If others reading this are considering moving from one career pathway to another and are unsure, I would say go for it!