22 Jun 2022
Marking Armed Forces Week
Dathlu Wythnos y Lluoedd Arfog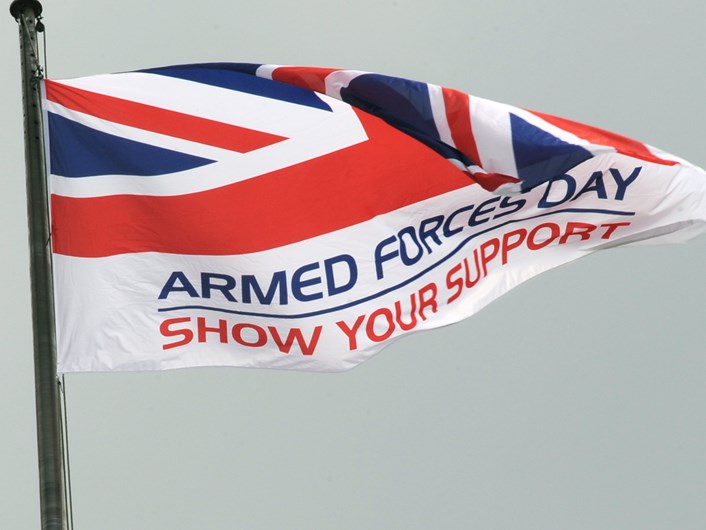 This week, from Monday 20 June to Sunday 26 June, is Armed Forces Week. Armed Forces Week is a chance to show your support for the men and women who make up the Armed Forces community: from currently serving troops to veterans, cadets, and Service families.
There are many ways for people, communities, and organisations across the country to show their support and get involved.
Armed Forces Day, formally Veterans' Day, was first observed in 2006. Showing support for the Armed Forces provides a much-valued morale boost for the troops and their families. The UK Armed Forces defend the UK and its interests. They're busy working around the world, promoting peace, delivering aid, tackling drug smugglers, providing security, and fighting terrorism. Over the past year, UK Armed Forces personnel have also supported the COVID-19 pandemic response, to include the vaccine roll out across the UK. You can find out more about what they are doing at home and around the world by visiting the official sites of the Royal Navy, British Army and Royal Air Force.
We've pledged to support the Armed Forces community by signing a commitment to honour the Armed Forces Covenant. By becoming a forces-friendly employer, we recognise that we can benefit from the wide range of unique skills and experiences that our reservists and veterans can bring to our organisation. Members from our Armed Forces community can also help diversify the talent in our workforce.
Beth Maclaren, Project Manager, spoke to us about her experience of joining TfW through our previous Armed Forces Recruitment Scheme:
"I joined TfW in 2020 via the Armed Forces Recruitment Scheme which gave me the opportunity to transfer the skills and experience from the Armed Forces and change careers.

TfW has provided me with the knowledge, skills and experience needed to become a competent Project Manager and has supported me as an individual and parent whilst doing so.

Since leaving the Armed Forces, it has been a challenge adapting to civilian life, but TfW and my Infrastructure Team have enabled me to excel in my new career.

TfW's pledge via Armed Forces Covenant to support Veterans and those transitioning from the Armed Forces to a career within the Rail Industry, is something that was very much needed within Wales, and I hope that it encourages more veterans, like myself, to pursue a career within the Rail Industry."
Karl Gilmore Rail Infrastructure Director said:

"As TfW's Armed Forces Champion, I'm passionate about raising awareness of our existing Armed Forces community and where required, assist them to integrate into our organisation and help them exploit their skills from their prior experiences. At TfW, we will endeavour to meet our obligations of signing up to the Armed Forces Covenant and strive to achieve gold status and beyond. Armed Forces Week for me is not only a time for celebration but also an opportunity for reflection"
In support of Armed Forces Week, we will be lighting up our head offices, Llys Cadwyn in Pontypridd. The building will be lit up in Red White and Blue in line with the Armed Forces Week flag. There's lots of ways you can get involved and show your support for Armed forces week here.
Keep an eye out for more activity and Armed Forces Week news later in the week.