11 Feb 2022
International Day of Women and Girls in Science - Laura's story
Diwrnod Rhyngwladol Menywod a Merched mewn Gwyddoniaeth - stori Laura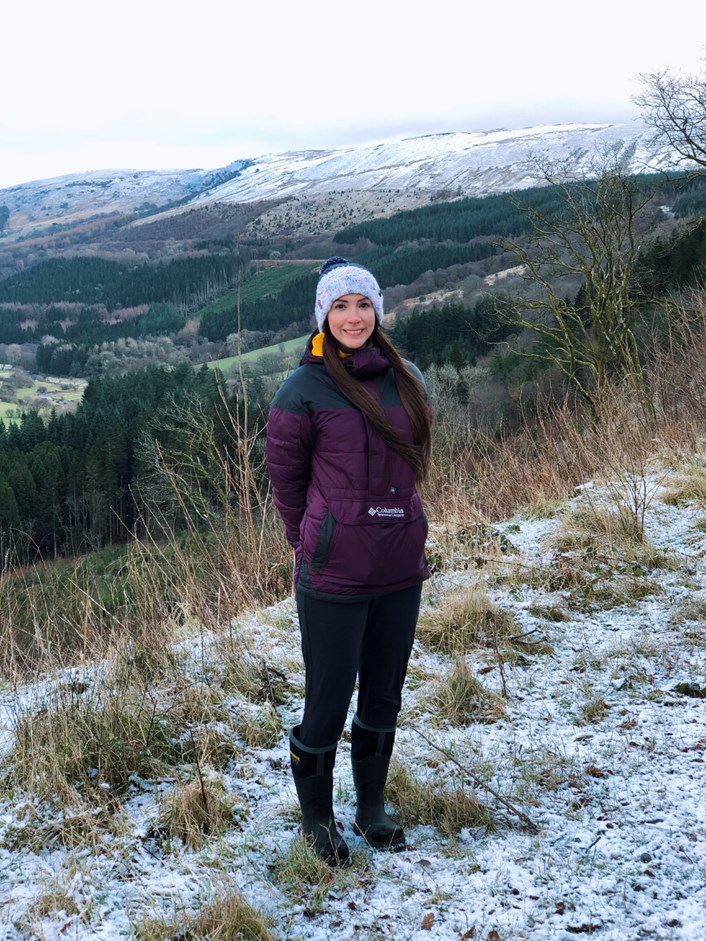 For International Day of Women and Girls in Science, we spoke to our ecologist Laura Jones to learn more about her role and her fascinating career journey.
My role
I work as Transport for Wales' ecologist. As a broad overview, my role is to make sure TfW is compliant in its operations throughout Wales with regards to wildlife legislation and policy. Also, to identify where we can be doing more to protect, promote and enhance our ecosystems and biodiversity in all that we do.
For example, this could be changing the timing and extent of our lineside vegetation management to be more wildlife friendly or integrating biodiversity into other aspects - such as Sustainable Urban Drainage Systems (SuDS) to reduce flooding or planting for ground stabilisation and climate change adaptation.

What is an ecologist?
As an ecologist, you're responsible for helping further research and understanding of how natural and human changes to the environment affect our ecosystems. You also influence what needs to happen if there's any impacts – such as off-site mitigation to counteract any losses as a result of development - or whether there are opportunities to enhance or create for biodiversity.
Ecologist roles typically have a heavy fieldwork element, especially at the start of their career. This includes assessing habitats (e.g. terrestrial, aquatic or marine) or collecting and analysing data, such as bat species and distribution in a given area. Depending on the species, you may be out day or night; at any time of the year.
Also, there's no such thing as a fair-weather ecologist, otherwise you wouldn't get much work done in the UK – so wellies and waterproofs are essential bits of kit!
Technical writing skills are important for producing reports and environmental impact assessments, as is having a strong understanding of relevant legislation, policy and experience of practical habitat management.
Why did you become an ecologist?
Getting into this field for anything other than being passionate about the subject would be the wrong path. If you don't like the great outdoors and you aren't keen on critters… you won't like the job.
For me personally, I knew I wanted to work in science and understand how the natural environment around us ticked; beyond what we superficially see. So, I had to ask myself - if you're going to work in this field; what is it you're trying to do exactly? I concluded my goal is ultimately to help bridge the gap between what we need in society and what nature needs - it needs to be harmonious; it needs to be sustainable.
The field of ecology has become much more mainstream over the last 20 years, as well as our understanding of how integral to all of our lives it really is. This includes the ecosystem services we wholly rely on as a species such as pollination, oxygen production and carbon sequestration (i.e. capturing and storing carbon dioxide). Not least is the influence nature can have on development and wellbeing e.g. green infrastructure and recreation and climate change, i.e. Nature Based Solutions (NBS).
It's relatively easy to take our natural environment for granted; it's always been there and always will be, right…? It's just not the case. Quite simply - without it we wouldn't be around – so we have to look after our wildlife. We are in a nature crisis, globally.
In the environmental sector, there is currently a clamour for all sorts of innovation in the field with technology increasingly becoming interlinked with many aspects of trying to solve this; so it's an exciting time to work in the sector.
What is your career history?
I had a fairly untraditional career path to get here; first training and working as a travel writer and editor in London in my early twenties, followed by an early mid-life crisis, quitting my job and going to live in the Amazon rainforest in a remote science station. There were many tarantulas…
Realising this was what I really wanted to do, I returned to the UK and took an MSc in Biodiversity and Conservation, next working at a local council as a Wildlife Officer, then as an ecological consultant for 8 years and finally here at TfW. The reason I applied for this role was because of the unique opportunities to make real impacts on a landscape scale. Transport offers unique opportunities for wildlife – railways, for example, act as wildlife corridors across the country.
During these last ten years I've published books, taught courses and spoken at conferences on the subject of ecology. You never stop learning though - it's a vast field!
What challenges, barriers and stereotypes have you faced?
There have been times when people have assumed my job entails something akin to caressing plants, kissing hedgehogs and chaining myself to the odd tree in protest.

Also, there is sometimes the perception that what we do is simply 'nice to do', rather than something vital for society.
In reality, there's a lot of practical work, science, analysis and research behind what we do and why. Understanding ecosystems, their functions, interactions, their species and how to best protect, enhance and create them – is complex and challenging.
I understand how hard attitude change can be to bring about – it often takes time. Perseverance, pragmatism and collaboration is key to break down those barriers.
Why do you think it's important more women take up Ecology in the near future?
Every individual is unique and brings a different perspective to the table; regardless of gender. It's been proven time and time again that diverse teams are the most productive. I believe an important part of this is to celebrate the difference each individual can offer to solve tomorrow's problems, and ecology is no exception.
What's your advice to young women thinking about a career in Ecology?
As with any job, there will be barriers, stereotypes, difficulties, but don't let that put you off your stride – foster relationships, continue learning and keep pushing forward with your ambitions.
Just the Ticket is TfWs podcast discussing a range of topics across public transport and sustainability in Wales and the borders. In a recent episode, Laura was joined by Dr. Louise Moon, a Project Manager from the TfW Sustainability team to discuss Green Routes. This is a £100,000 project funded by the National Lottery Heritage Fund to enhance biodiversity at 22 stations and 5 community areas across the TfW Rail network, helping local people connect to the nature on their doorsteps.