12 May 2022
5 ways travel can benefit your mental wellbeing
5 ffordd y gall teithio fod o fudd i'ch lles meddyliol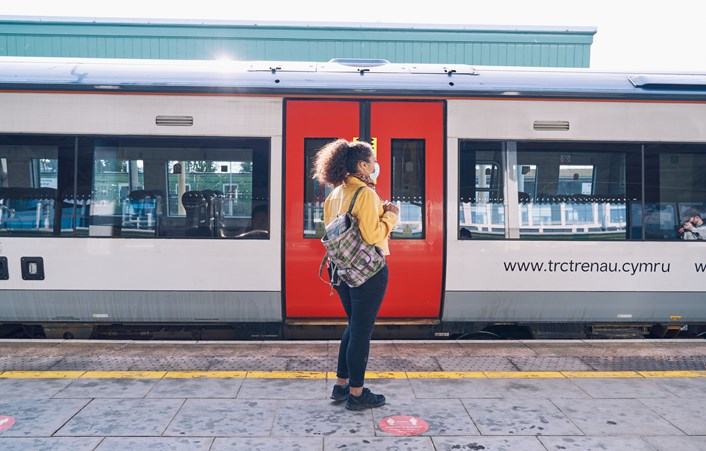 This week is Mental Health Awareness Week and as we come out the other side of the Covid-19 pandemic, here at Transport for Wales we want to celebrate our freedom to travel and share some of the benefits that travelling, even locally, can have on our mental health.
Evidence suggests there are five steps we can take to improve our mental and physical wellbeing. Two of these five steps are to 'Connect' and 'Be Active' – both of which can be achieved through travel!
Here are 5 ways travel can positively impact your mental wellbeing:
The Real Social Network
As we've learned over the past two years, having the ability to travel, both locally and globally, is paramount for good mental health. It provides us the opportunity to visit friends and family, even if it's a quick cycle to the other side of town to meet a friend for a coffee.
At TfW, we consider our travel network the Real Social Network. Jumping on one of our trains to visit a friend is much more engaging than video calling and seeing your friend in 2D.
Plan your journey, from walking to taking the train, here.
Strengthening relationships
Not only does travel afford us the ability to visit friends or family, but it also simultaneously strengthens our relationship with our travel companion. Travelling together increases the closeness of a friendship as well as the perceived idea of shared interests!
Boosting your endorphins
Many people forget that active travel is indeed a form of transport! This could be walking, cycling, skating, or running. These forms of travel are beneficial for our mental state because exercise is a natural stress relief; it also reduces tiredness, improves sleep and increases energy levels as well as releasing endorphins in the brain, that improve your mood.
Find out more about active travel in Wales, here.
Change of perspective
Whether you jump on a train to Ogmore-by-Sea or hop onto a plane to explore a new culture, travel can benefit our mental health by giving us a fresh perspective.
As we learned from the Covid-19 lockdowns, a change of scenery is essential to good mental wellbeing. This is because travel leads you to question and challenge the norms of everyday life at home and this can lead to making positive changes in your life.
Act of self-care
If you are feeling low or are struggling to reach out to a friend and would rather be alone, a stroll through your local park, beach or woodland area can be a simple way to boost your mood. When you really don't feel like it, this small act of self-care can really change how you are feeling at any time of the day.
Need to rent a bike? Find out about Ovo bikes here.
Please take the time this #MentalHealthAwarenessWeek to connect with a friend in person or get out into nature for a relaxing and refreshing walk.
Whatever you do, do it for yourself. Let's connect!