23 May 2022
5 benefits of an active daily commute
5 mantais defnyddio dulliau llesol o gymudo i'r gwaith bob dydd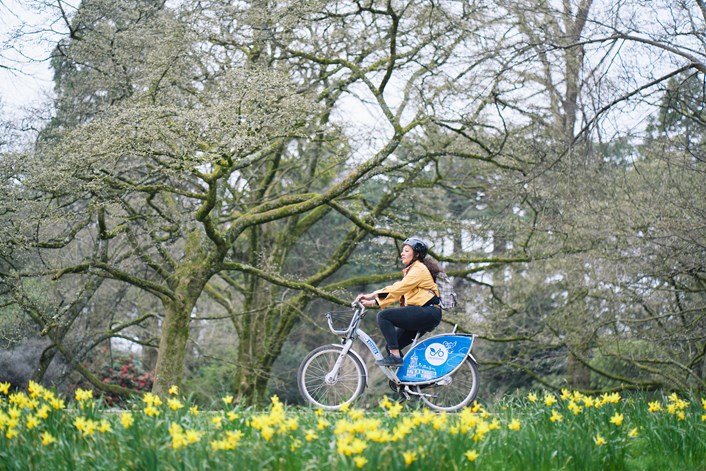 Are you tired of getting stuck in early morning road traffic? Or being a few minutes late for your train to work?
At Transport for Wales, we want to create a integrated transport network so you can leave the car at home. Instead, why not choose a walk, cycle, train or bus. There are many benefits of being regularly active, including improved mental and physical wellbeing, that can be achieved through an active commute.
Read on to find out more about how you can transform your morning from long queues to a relaxing and refreshing start to your day.
Take back your mornings
Walking or cycling are both uplifting ways to travel, especially in the morning. Not only does an active commute give you more time to wake up, but it also provides 'you time' for you to listen to a podcast or catch up with a friend.
Additionally, a brisk walk or cycle can reduce your stress levels and blood pressure. It is a simple way to unwind after a long day at work, allowing you to feel more relaxed by the time you get home.
Plan your walk with the Traveline journey planner.
Improve your physical wellbeing
Not everyone wants to do two hours in the gym every day to stay fit. But combining your commute to include a walk, cycle or even a run or scoot, regularly, is a great way to keep your fitness up and stress levels down.

Walking for 2.5 hours a week—that's just 21 minutes a day—can cut your risk of heart disease by 30%!
Move your way to a better day
Moving your body first thing in the morning is a great way to start the day off on a positive note and set yourself up for a good day. This doesn't mean you have run a half marathon, but a brisk walk or cycle can release the endorphins you need to feel positive and ready to face the day.
Live in Cardiff? Ovo bikes are available across the city for a healthy and convenient journey to and from work, with many docking locations to choose from. Find your closest bike location here.
Improve your local environment
Sustainable travel options are beneficial the environment, reducing the large amounts of CO2 we produce daily by motor vehicle use, therefore improving air quality.
Whilst TfW continue to decarbonise our transport networks, you can help by making one simple change to your daily commute.
Additionally, a daily walk or cycle is the perfect way to enjoy nature in your local environment. Here in Wales, we have beautiful scenery to take advantage of and spending time in nature can improve our mood.
Save the day and your money
With the rising costs in petrol, your daily travel does not have to add to your monthly bills. Walking or cycling is a great way to save money on petrol or other travel costs.
For more about how Transport for Wales are working to increase active travel across Wales, find here.
To listen to our 'Just the Ticket' podcast on Active Travel in Wales, or any other of the TfW podcast episodes, find here.